So, as those of you who care already know, Chloe, in a
Crash
-like upset, was the winner of
Project Runway
. The similarities to the Oscar outcome are eerie. A dark horse winner with a story of racial prejudice hijacks the show from an alternate lifestyle duo.
I would blame the casting couch, but she doesn't seem like that type of girl.
Or maybe I should blame the couch after all, since that's what her collection looked like.
Santino
called it
first.
FourFour's short and sweet
reaction
to the winner announcement said best.
As long as it wasn't Daniel is right. I think the figure 8 purse that that smug little mofo was so proud of says it all for me.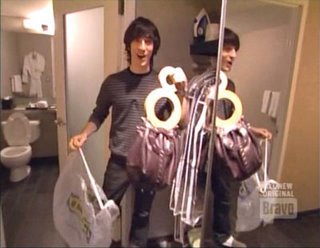 My favorite part of the finale was when Daniel gave Tim his panicked announcement that the hideous handbags had gone missing pre-show. I burst out laughing when Tim gave this Yoda-like
reaction
.
And, of course, there's no one like the awe-inspiring FourFour to send season two off with the best sound clips and sound-minded quips. Here is his
farewell post
.
Oh, Santino. You didn't need Klum, Messing, Garcia and Kors to know you're a winner. Like the Tinman of Oz fame, you had it inside you all along.