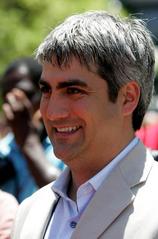 Eight things the new American Idol Taylor Hicks and the Commander in Chief of the United States of America have in common:
1. Use of "down home" delivery to disarm audience.
2. Sweeping success on respective election days despite questionable ability.
3. A frightening level of conviction.
4. Amazing ability to stay "on message" (e.g., "Soul Patrol!" and "Axis of Evil!").
5. Hair color.
6. Both have appeared in public with a smiling, but stymied brunette by their sides.
7. Neither of the above-mentioned women will admit to being anything but lucky, oh so lucky.
8. America will live to regret bestowing power upon both men.