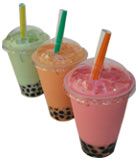 Most pleasing foods: boba tea and grapefruit. Not in tandem, mind you.
Mos pleasing discovery: that the 20-year-old American soldier I "adopted" enjoys Wes Anderson and Sofia Coppola films, not the Adam Sandler oeuvre I predicted (although he might dig
Punch Drunk Love
, now that I think about it). My demographic pigeon-holing was so wack, yo.
Most embarassing indulgence: two nights in a row of
America's Next Top Model
. Made me miss my Tyra impressions in improv class.
Most disappointing Netflix trio ever:
Irma Vep
,
The Last Kiss
,
The Happiness of the Kutakuris
. I found all three to be annoying and hit "eject" mid-film, although I did enjoy watching Maggie Cheung speaking English.
Most pleasing delivery: a belated birthday box bedazzled in pink polka dots. Bitchin'!
Most anticipated event: sleeping in this weekend until completely unreasonable hours.