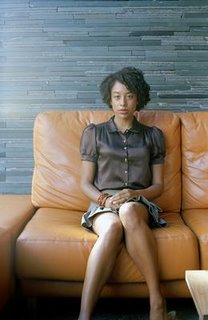 In music news
If I could nominate the official song of Summer 2006, I would pick
Corinne Bailey Rae's
"Put Your Records On." It's easy, breezy R & B/pop with just the right attitude for dancing despite humidity in a sundress and bare feet. Her new album comes out in the U.S. on June 20. Commercially speaking, she has the bones of Norah Jones and will probably be a big, fat hit. As many times as I've played the song, I never get tired of it. It just makes me grin.
In political news
As much as I hate to pay a compliment to Dubya, his secret trip to Iraq to meet with the new government "eye to eye" was a vitally important gesture. I hope the curfew and other security crackdowns bring some kind of relief.
I also hope the Democratic party can get its act together before the mid-term elections. Sadly, as Bill Maher so cleverly put it, the party always seems to have a way of "wrestling defeat from the jaws of victory."
Speaking of Iraq, my adopted Army soldier gets a two-week leave to visit his family in the U.S. this month. It will take him four days one-way from Iraq to California, via military transport. So eight miserable days traveling for 14 at home. Something tells me it'll be worth it.
In entertainment news
I'm not proud to admit it, but I watched Britney on
Dateline
. I did feel sorry for her when she started crying about the paparazzi. It must be crazy-making to be stalked by photographers like that. I remember reading that Paris Hilton has been so over-paparazzi'ed, she now hears the whirring/click of the cameras even when she's alone. One thing I can't figure out about Britney is why her country girl accent is more pronounced now than in the interview clips of her at 19. Maybe it's like Madonna's faux Brit-ish accent. Some kind of identity crisis/coping mechanism. I also caught Matt Lauer oogling her prenatal boobage for a millisecond. Naughty boy.
In personal news
Since my last post, Desert Storm and I have e-corresponded about his coming out. We both acknowledged how much our relationship meant to us, as well as how we both toyed with the idea of reuniting over the years. It was touching and sweet and jam-packed with closure. So it looks like I've traded in my "big fag ex-boyfriend" (his words) for my first gay friend. As Borat would say, I like.
In comedy news
This week on
The Colbert Report
, Stephen took himself on in an argument about Gitmo. He and his writers deserve an Emmy for best comedy sketch deconstructing the Gitmo dilemma. To watch, go to the
most recent videos
page for his show and look for "Formidable Opponent: Gitmo." Just one more reason to vote Colbert in 2008.